New Coast Guard Requirement
A new ECOSL law goes into effect on April 1st and it's no joke. How does this law affect you? In all honesty, it shouldn't! You should already be using it.
The new requirement (https://coastguardnews.com/coast-guard-announces-new-law-requiring-use-of-engine-cut-off-switches/2021/03/10/) amends Section 4312 of title 46 (https://www.law.cornell.edu/uscode/text/46/4312) that mandated ECOSLs on all new boats under 26 feet that develop 115 pounds of thrust. (115 pounds of thrust is roughly equivalent to 2-1/2 hp)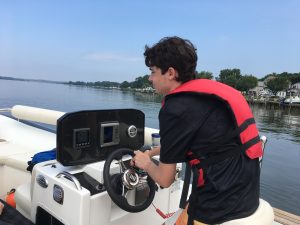 What is an ECOSL?
The ECOSL is a Engine Cut-Off Switch Link. That's the "kill cord" or "safety lanyard", or whatever you call the coily red thing that connects you to the helm of your boat.
What does an ECOSL do?
Essentially, It turns off the engine of you fall overboard.
This seems like a no brainer. You wear this, you accidently fall overboard, it kills the engine, you swim back and get on your boat.
So why don't people wear them?
Great question! They are inconvenient. The conventional safety lanyard gives you about two feet of movement before it pops off and kills the engine. As you reach for a dock line or retrieve something else. Pop, the engine is off.
Another problem is that they are had to put on. Most lanyard come with a little metal clip that is too small to clip on anything. Or, they are just too hard to squeeze to clip on and off. It not metal, they are plastic and break the first time your try to clip them on.
Possibly, the most frustrating reason people do not wear them is that they get tangled around the steering wheel. You're making some quick maneuvers because you're in a tight situation and you're trying to get our and suddenly the lanyard is wrapped around the wheel and the engine is off. Not fun!
Our solution to these is making it easy to get the lanyard on and off. That makes us more likely to wear it. We have added a small carabineer on the end of the lanyard. We use that to connect to a life jacket strap or a belt loop. (What? You're not wearing a life jacket? We will address that at another time. ) Attaching the lanyard to mid-section of the body helps to keep it out of the steering wheel.
New technology has appeared over the last few year that provides this same function in a wireless connection (FellMarine – https://buy.fellmarine.com/collections/mob-wireless-man-overboard-system). The operator wears a silicone bracelet and if it is too far from the receiver, it shuts the engine off. No more lanyard to wrap around things.
Do we really need this law?
We shouldn't, but apparently we do. Every year, more and more people are injured or killed in boating accidents that could have easily been prevented. Is this law going to prevent all deaths related to run-away boats? No. In my opinion, the law has a major flaw. The ECOSL is only required when the boat is moving above displacement speed. Yes, that makes it convenient for leaving and returning to the dock and things like anchoring. However, many accidents arise from situations at idle speed or even when the boat is in neutral.
There have been many accidents and even deaths that resulted from the throttle being accidently engaged. The resulting force throwing the operator from the boat. I have witnessed this. I was assisting a small sailboat when its boom hit and engaged the throttle. Fortunately, it did not throw me from the boat (even though I was wearing the engine cut-off lanyard. I have heard reports about others who were n0t so fortunate because they were not wearing the lanyard.
The US Coast Guard has put together a FAQ page to help you understand the new requirement – https://uscgboating.org/recreational-boaters/engine-cut-off-switch-faq.php
While this new requirement should help, it would be best if we all put the ECOSL on before we start the engine and leave it on as long as the engine is running. The life you save may not be your own. You may have to live with the fact that your refusal to wear it, took the life of someone else. Just wear it!
Want to learn more ways to be safe on the water? Consider our hands-on Powerboat Training!