Confidence Starts with Comfort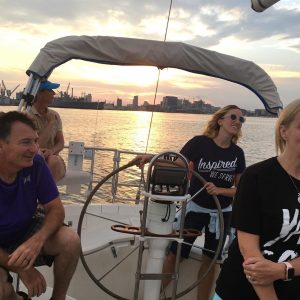 Have you ever dreamed of sailing in a tropical paradise? Or maybe you want to day sail or cruise on the Chesapeake Bay. Perhaps the dream to win sailing regattas. We can help you get a great start to achieve any of those dreams! Learning starts with an introduction to sailing!
From the very start you'll be on our stable and comfortable 36′ Sabre sailboat, Condor, as you learn to sail. No time spent sitting in a boring classroom! We'll jump right in with a little hands-on theory and terminology. Next, we'll cover the important safety information and head out into Baltimore harbor. Following that, we will steer Condor out away from the dock, and then hand her over to you and your fellow students. Under our watchful and encouraging direction, you will be sailing! Just the wind and the sails and you!
You and the other students will rotate through each position on the boat. You will be steering and hoisting and trimming sails, putting the theory you just learned to practical use. We limit the class size to five students to ensure that everyone gets sufficient hands-on time to learn and practice and ask questions.
Once you start this class, you'll learn basic sailing theory, terminology, and how to steer, hoist sails, trim sails, and tack. Our goal in this course is to build a solid foundation. Afterward, you can confidently step up to reach your sailing goals.
You will also have the opportunity to see many of the famous (and not so famous) Baltimore waterfront landmarks.
SeaAffinity offers our Introduction to Sailing in both a group format and as a private lesson through AirBnB Experiences. If the published dates and times don't work for your schedule, contact us and we will add additional offerings to our schedule.
Book on AirBnB Experiences – Introduction to Sailing or Contact us to schedule a date and time!
Charters and lessons
Are you interested in more sailing and boating opportunities? Check out a few of our popular charters and lessons below.