Reach your sailing goals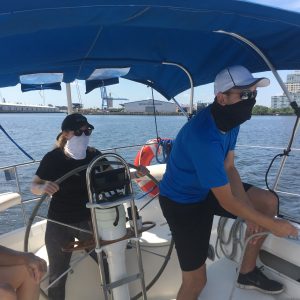 SeaAffinity offers private sailing lessons in Baltimore.
Once you have a solid sailing foundation, we can help you build on those skills to help you reach your sailing goals. We understand that everyone learns at different paces and has differing goals. Therefore, our instructor, a US Sailing Master Instructor Trainer, provides private sailing lessons in Baltimore to help you learn that skills you want.
First, we help you build on the basic theory and terminology, of steering, tacking, and jibing. After that, our private sailing lessons cover additional skills such as fine sail trim, overboard recovery, and heaving to. As you hone your sailing skills, we also work on maneuvers under power, such as anchoring and docking.
Are you planning to buy a boat and sail on the Chesapeake Bay? If so, we can help ensure that you have the knowledge and skills to help keep you safe and enjoy tour sailing. Sharing pros and cons of differing models and styles of boats will help you decide the best direction to go when the time comes for purchasing.
If you have already bought a boat in the Baltimore area, then we can provide guided practice on your boat. Additionally, we can help you learn your boats system and provide guidance on repairs. Above all, you can put our experience in sails and rigging (both standing and running), as well as mechanical and plumbing systems, to work for you.
We offer training on our boat (up to two people), or yours, at the rate of $250 for two hours (travel to your boat is additional).
Contact us to schedule your private sailing lessons in Baltimore!
Charters and lessons
Are you interested in more sailing and boating opportunities? Check out a few of our popular charters and lessons below.