Keeping you safe
Our Captain and crew have been vaccinated!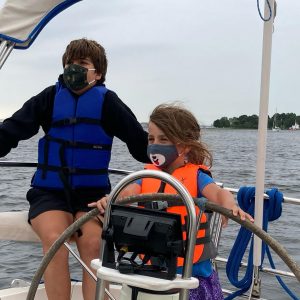 SeaAffinity has developed and adopted these COVID protocols because we have the utmost concern for both your safety and ours. We also know that many are eager to get out and enjoy the outdoors on the water, or participate on sailing and boating lessons. We have been communicating frequently with the offices of the Governor, Mayor, our representatives, and the Department of Natural Resources. On May 25, 2020, Governor Hogan issued an order allowing the reopening of certain businesses and facilities (read the order HERE) With guidance from these, including direct permission from the MD Department of Natural Resources, we feel it is safe for us to resume programs under our COVID protocols. Yes, there will be some changes which are listed below. If you have questions or concerns, please contact us.
COVID Protocols:
We are following recommendations from the State of Maryland Re-Opening Guidelines, the CDC , as well as the Passenger Vessel Association.
Booking – While we enjoy our relationship with AirBNB Experiences and encourage booking through their service. If they pause their booking service and we are still safe to operate, we will accept direct bookings for our lessons and sailings. Call or email us directly at info@SeaAffinity.org, or 410-812-3757
Disinfecting – Between every lesson, group, or outing, we will clean and disinfect Condor with an EPA approved disinfectant per EPA and CDC guidelines.
PPE – We will require proper PPE (face covering) to be worn by everyone over the age of 2, whenever a 6′ distance is not possible. We will also make hand sanitizer available for those who want to help with steering or sail handling.
Social Distancing – Condor is 36′ long and we have three primary areas for guests to sit, each 6′ from the others. We ask that non-related guest remain in separate areas or wear face coverings when that is not possible.
Self-Assessment – We require all participants to be symptom free (fever, cough, or shortness of breath). You can take a COVID-19 self-assessment Here If you have reason to believe that you are currently infected with, have symptoms of, or have been exposed to COVID-19, please reschedule until a later date.
Temperature scan – every participant will be subject to a touchless, forehead temperature scan before boarding. A person with a forehead temperature of 100°F or higher will be refused.
Waiver – In addition to our standard waiver, you will be required to sign an additional COVID-19 waiver (see below)
Waivers:
After you have reviewed these COVID protocols, please click the link to sign our Waivers:
FAQs:
Are the Captain and crew vaccinated? – Yes! For your safety and peace of mind, our Captain and crew have been vaccinated, but will continue to wear face coverings.
Can we bring food and beverages? – Yes! You can still bring food and beverages to enjoy while participating in a sailing charter with us. We ask that you take appropriate cautions to limit exposure.
Can we steer and handle the sails? – Yes! If you would like to help steer or hoist and trim the sails, we will provide hand sanitizer for your use to help prevent transmission of disease.
Will I get sick or catch COVID-19? – We will adhere to these COVID protocols to make every effort to ensure the health and safety of our guests. That said, there is still a possibility that you could become ill. If you are concerned, we urge you to reschedule to a later date.