The History of SeaAffinity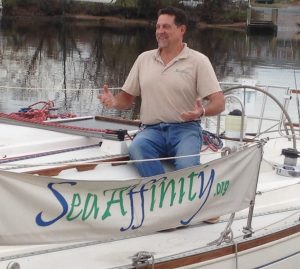 It is hard to pin an exact date and time to our beginning of the concept of SeaAffinity. Yes, we can pin the exact date to the incorporation of the organization – February 8, 2012. However, our beginning started long before then.
Before we get into too much of the history of SeaAffinity and its formation, I want to give you a little background on me, Steve Maddox; to tell you who I am and how that played into the starting of SeaAffinity.
First, I am dyslexic and have a degree of ADD. It is hard for me to stay focused on the right thing at the right time. I think that is why I can easily empathize with many of the students we interact with. There are so many distractions in the classroom and in life. Learning how to focus yourself to complete the task at hand is a challenge.
Another leading factor is my passion for sailing. My wife, Suzanne, and I learned to sail as adults on a 14′ Force 5 (similar to a Laser). We got a book and video (back when they had VHS tapes) and we taught ourselves to sail. Together, we kept learning and eventually took a class. A few years later, I took a job as the director of a summer sailing camp. Part of the job requirement was that I needed to be certified as a sailing instructor. I took US Sailing's Small Boat level 1 Instructor course and loved it! It seemed like a much better way to learn than just reading a book and watching a video.
US Sailing seemed to be a great opportunity, so I jumped into with both feet! I earned a Coaching certification, as well as Powerboat and Keelboat instructor certifications. I went on to earn a Small Boat Instructor Trainer certification to train other instructors. US Sailing recruited me to become part of National Faculty (the group of volunteers that write the training materials). Shortly after, US Sailing appointed me as a US Sailing Master Instructor Trainer.
During all this, I ran two different sailing centers. I learned a lot about not only running sailing programs, but also working with people. As the director, I saw things that I thought worked well. There were also many things I would do differently. An acquaintance approached me about taking over (actually restarting) a local sailing nonprofit whose founder had passed and board had lost the vision. We worked to find all of the supporting documentation, but after several months, it was clear that it was not going to come together.
At that point, we decided to take a big step of faith and start our own nonprofit. We were certain that we wanted to use incorporate sailing at the foundation. We still were not entirely sure what it would look like and what we would do.
I had passed my dyslexia and ADD on to my children. They each manifest the symptoms in various ways. In working with them to help them learn, we realized that actively engaging students in a hands-on manner was best. Additionally, that method is beneficial for most all learners. We also learned that the sailboat is an excellent hands-on learning platform. From our beginning, we designed SeaAffinity with the intention of providing this format of learning to homeschooled children as well as other students who may be struggling.
We had a passion for all things sailing and boating related. Just being on the water gave a sense of peace. We loved teaching sailing and passing our passion on to others. Taking family, friends, and acquaintances out on our boats always provided a great time. It was clear we were going to incorporate taking people sailing and teaching sailing.
When it came time to complete the paperwork for the organization's incorporation and filing for tax-exempt status, we had started to get a good idea of the direction we were going. Outreach programs, math and science programs, and teaching sailing. If we were going to provide free and low-cost programs, we had to find some way to pay for it.
Most nonprofits write grants (or hire people to do so). They also have paid staff to run things and the larger they become, the more staff and the more overhead, and the need for more grants. Staying small enough to run with no paid staff was important to us. We also decide that taking people sailing would be the primary income source to fund the nonprofit work. That became the business model.
We still did not have a name. We wrestled for weeks to come up with a name that would describe out passion and goals. It was important to us that the name had to sum up our deep connection to the water. It had to reflect our strong attraction to the sea – our affinity for the sea. SeaAffinity!
On February 8, 2012, SeaAffinity filed their Articles of Incorporation and Bylaws with the State of Maryland, and for tax-exempt status with the IRS. It took almost a year to the day to receive our IRS status letter, but we received it!. SeaAffinity, with all of its programs, was officially a 501(c)(3) tax exempt nonprofit organization.
Has it been easy? Of course not. It is a terrible business model. We spend insane amounts of time with little to no financial compensation. Often, we have to pay bills for the organization, hoping that the business would get enough funds to pay us back. However, the altruistic rewards are immeasurable! The smile on the participant's face that we know we put there. The look of confidence that we know we instilled. We know that we are developing life skills through an affinity for the sea!